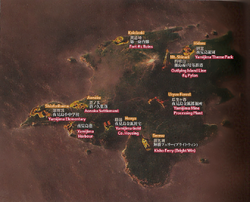 Yamijima Island
(

夜見島

Yamijima

?

)
is the main setting in
Forbidden Siren 2
. It is a remote island off the coast of Japan. The island, unsociable and with unique customs, went through huge changes along with the trends of the generation. All that remains in this area, with its horrible history, is the silent passage of time, and the remnants of the mystery of 29 years ago...
Yamijima is a place that has felt the influence of a supernatural being called Annaki (and the things created from its bones), and as such has been feared since ancient times as "the island of darkness", "island of the underworld" and "the taboo island". This is due to the fact that Mt. Shinari in the centre of the island and the Mekkoju, which exists in the World of Nothingness, were once overlapped in their dimensions, leading the islanders to develop unique traditions and legends involving "impurity", and several strange incidents such as the mass disappearances and undersea cable cutting of 29 years ago occur on Yamijima because of the special location in which it is positioned.
The people are all swept into the Yamijima in the Reflected World created by Mother by a huge, red tsunami that occurs along with a siren at midnight. Escaping from this illusionary island becomes the story's ultimate objective.
1890 - Yamijima Fort construction completed
1960 - Investigation team enters Yamijima
1961 - Mining begins on Yamijima; pylon constructed
1963 - Apartment complex constructed
1965 - Amusement park constructed
1967 - Development reaches peak. Record population on Yamijima
1970 - Ore gradually dries up; other issues besides...?
1973 - Yamijima gold mine closes
1975 - Ryuhei Mikami moves to the island with Shu
1976 - Undersea cable cut; Yamijima islanders vanish; (Hanuda Village landslide)
1986 - Ferry runs aground
2003 - (Hanuda Village landslide)
2005 - Yamijima turns into Other World