Yuri Kishida
Age
18
Gender
Female
Nationality
Japanese
Status
Deceased
Appearances
Forbidden Siren 2
Voice Actor
Mai Takahashi
Yuri Kishida (岸田 百合, Kishida Yuri?) is a character in Forbidden Siren 2. A crazy woman, and the murderer of Ryuko Tagawa. She has goals on the island that the characters can only guess at, and is far more than she seems.
Biography
Edit
In 2003,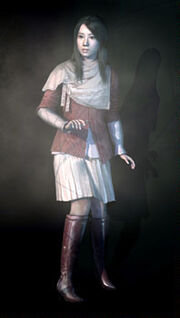 Offshoot C kidnapped and killed the real Yuri Kishida in order to steal her name and clothes.
Under Mother's assassination orders, Yuri visits Ryuko (Offshoot B). The moment Yuri, who stands out amongst the other doves and shares her consciousness with Mother, touches Ryuko, the two share a recalled fragment of human mentality (a yearning to be human?). However, unable to go against Mother's absolute order, Yuri indifferently batters Ryuko's face with a blunt object over and over, killing her...
Initially, Yuri attempted to lure Shijin Edo to Yamijima Island in order to break the seven seals and release Mother. However, an accident occurred, resulting in the death of the man. With this, Yuri had to find someone else. In the Yamijima Amusement Park, learning that Mamoru Itsuki is visiting Yamijima Amusement Park via her supernatural power, Yuri sets a "trap" in order to bewitch him. Led by Yuri, Itsuki decides to reach the center with her, but in actuality has been driven by a mysterious force, and unseals the seven gates as Yuri says.
At the sixth hour in the Netherworld, through Yuri's sight the "seven keys" appear as the seven gates are unlocked, but this is just how they appear to Itsuki, as theoretical seals. Once they reached the Underworld, Yuri undoes her shirt to reveal a face on her chest, the mark of her being a dove. Afterwards, Yuri fuses with Mother's neck and "completes" her.